Understanding Antique and Period Jewelry
Words like vintage, estate, antique and period jewelry are often used interchangeably. But there are distinctions between specific periods of jewelry. Antique describes an item at least 100 years or older. Vintage describes items that are not yet 100 years old.
Some of the most collectible jewelry periods are Georgian, Victorian, Edwardian, Art Nouveau, and Art Deco. Let's look at what defines each era.
Georgian Era 1715-1834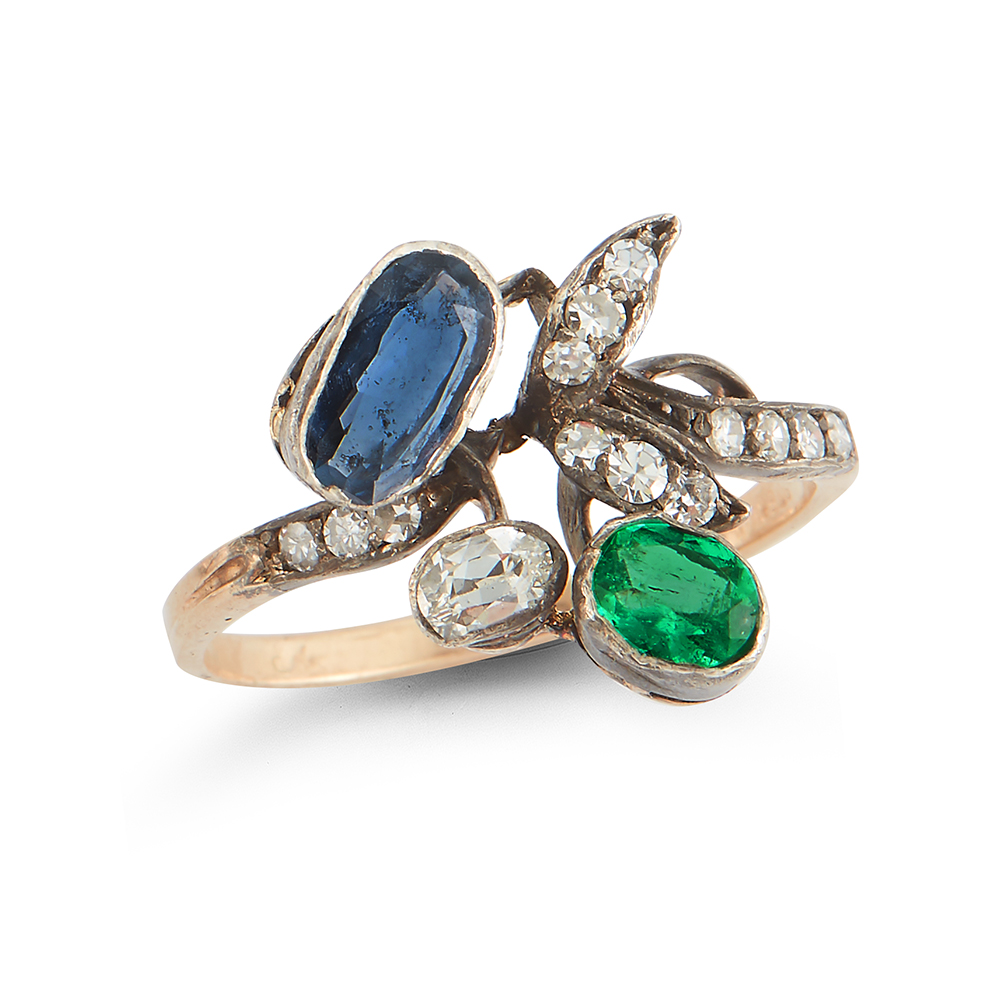 The Georgian era covers an era of four British kings: George I, George II, George III and George IV all ruling successively, spanning most of the 18th century through part of the 19th century. It is generally thought to mean the period between 1715 and 1834 when referring to jewelry eras, but these dates --like other periods are not precise.
Because this is so long ago, very little jewelry or precious decorative items from the Georgian era have survived. Following the Georgian era, many of these exquisite jewels were disassembled and metals melted to create more fashionable jewelry of later periods. What little that survived is considered exceptionally rare, and often reveals extraordinary craftsmanship unequaled today.
Simple rose cut stones, and diamonds set in silver are typical of that era. Gems were foil-backed, a very popular treatment at the time, which enhanced the brilliance of these gems. With all Georgian jewelry, great care should be exercised to preserve these treasures.



Victorian Era 1837-1901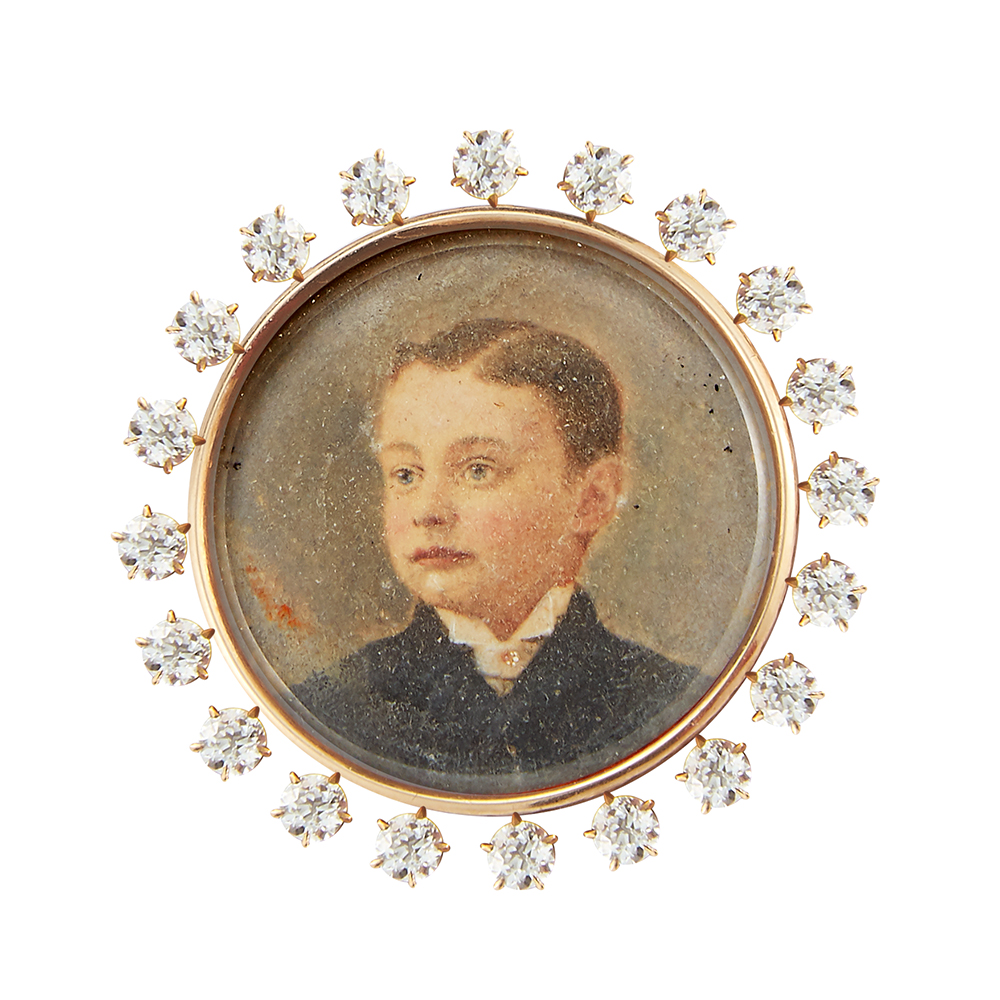 England's Queen Victoria reigned a very long time, and the Victorian Period is named for her. This era's jewelry is distinguished by extreme sentimentality. Victorian jewelry boasted locks of hair or miniature portraits of loved ones, and even children's teeth. Owing to increased travel and interest in archaeology then, Victorian jewelry often displayed some Etruscan or Egyptian influence.
Queen Victoria married Prince Albert In 1840. Her engagement ring featured an emerald encrusted snake head; the snake symbolized eternal love. The emerald was her birthstone which was a common with engagement rings then.
Prince Albert died 20 years into their marriage, which threw her into a lifelong period of mourning. Mid to late Victorian jewelry reflects this change. After Albert's death, Victoria wore only very dark or black jewelry, referred to as Mourning Jewelry.



Art Nouveau Movement 1880s -1910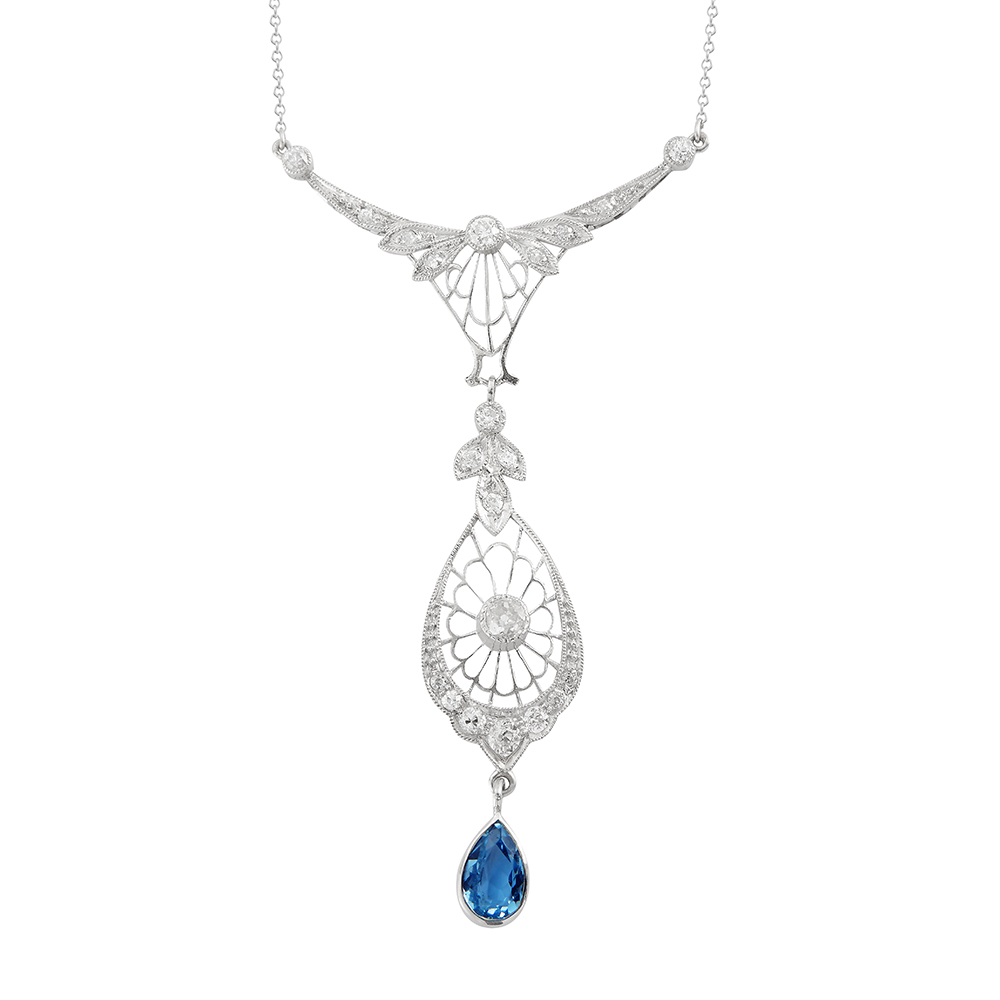 As its name suggests, the Art Nouveau movement started in France. Nature was the overriding theme of Art Nouveau jewelry. From the idealized female form, to delicate floral subjects like water lilies, or even bugs, nature dominated jewelry motifs. Newer techniques emerged like fired enameled plique-a-jour, in which the enamel in an item has no solid backing, making it appear like stained glass--which was also popular then.
The Art Nouveau movement was a short lived yet it was distinctly sensual and remains highly sought after today. It has never really gone out of vogue. Like most art movements, the Art Nouveau period defined an era in revolt against heavily structured jewelry that dominated the latter part of the Victorian era. Japanese design and the Aesthetic Movement influenced later Art Nouveau jewelry pieces.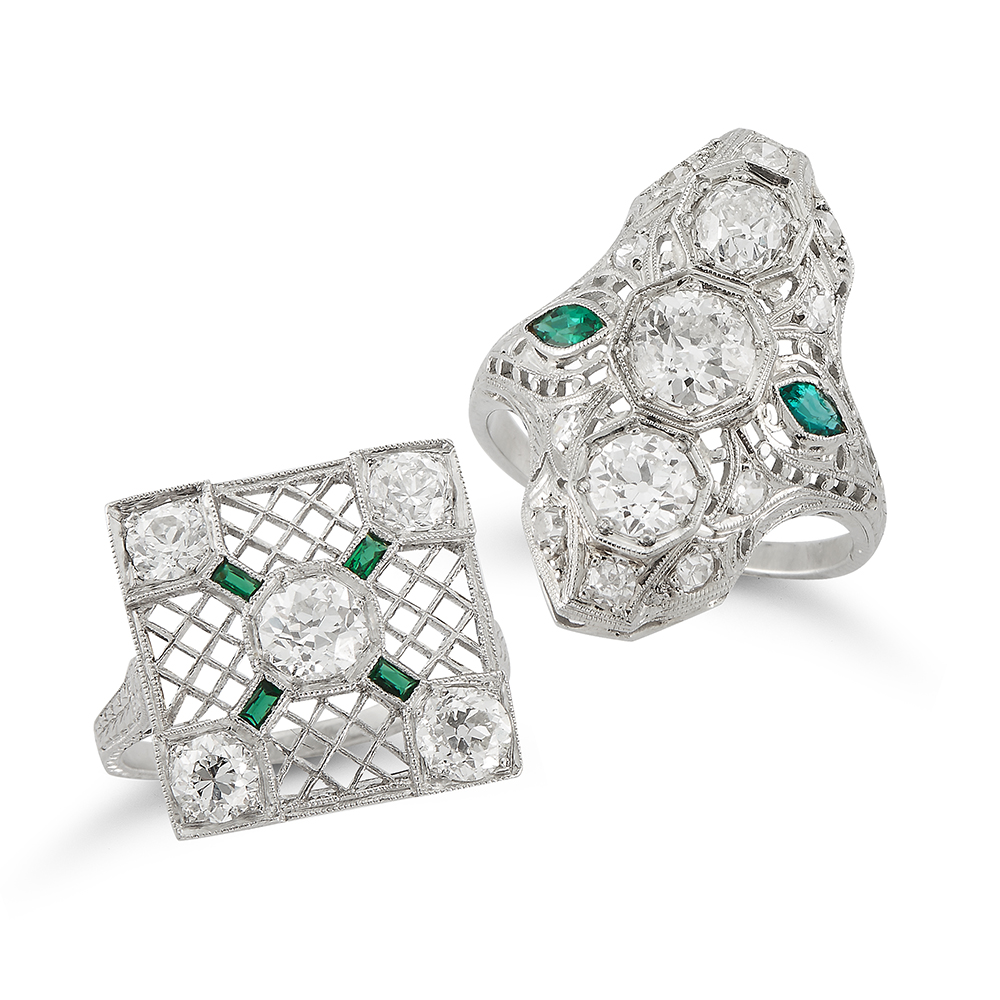 In sharp contrast to jewelry styles that defined Edward's mother, Queen Victoria's latter years, Edwardian jewels are quite delicate, feminine and almost lacy looking. Edwardian jewels were often made of platinum which had not been much used prior to this time. Diamonds were plentifully included into Edwardian jewelry which often featured natural pearls. Since pearl culturing was a product of the early 20th century, pearl jewelry from the earliest Edwardian era and before are certainly natural pearls.
Ribbon-like bows and garland themes were popular design choices. The craftsmanship showed a very open and airy look to the jewels, often utilizing a technique called 'knife edge' whereby the metalwork in jewelry were razor thin.
Gone were the somber heavy jewels that defined the Victorian era. Fashion and jewelry took on an almost ethereal lightness with delicate lace and feathers dominating the pastel colored fashions. Edwardian jewelry mirrored an ultra-feminine quality.
The art of millgraining was used throughout the Edwardian period and is recognized on jewelry as micro-miniature balls or ridges surrounding a setting or on the outer edges of the jewelry. The effect gave a delicate handmade look.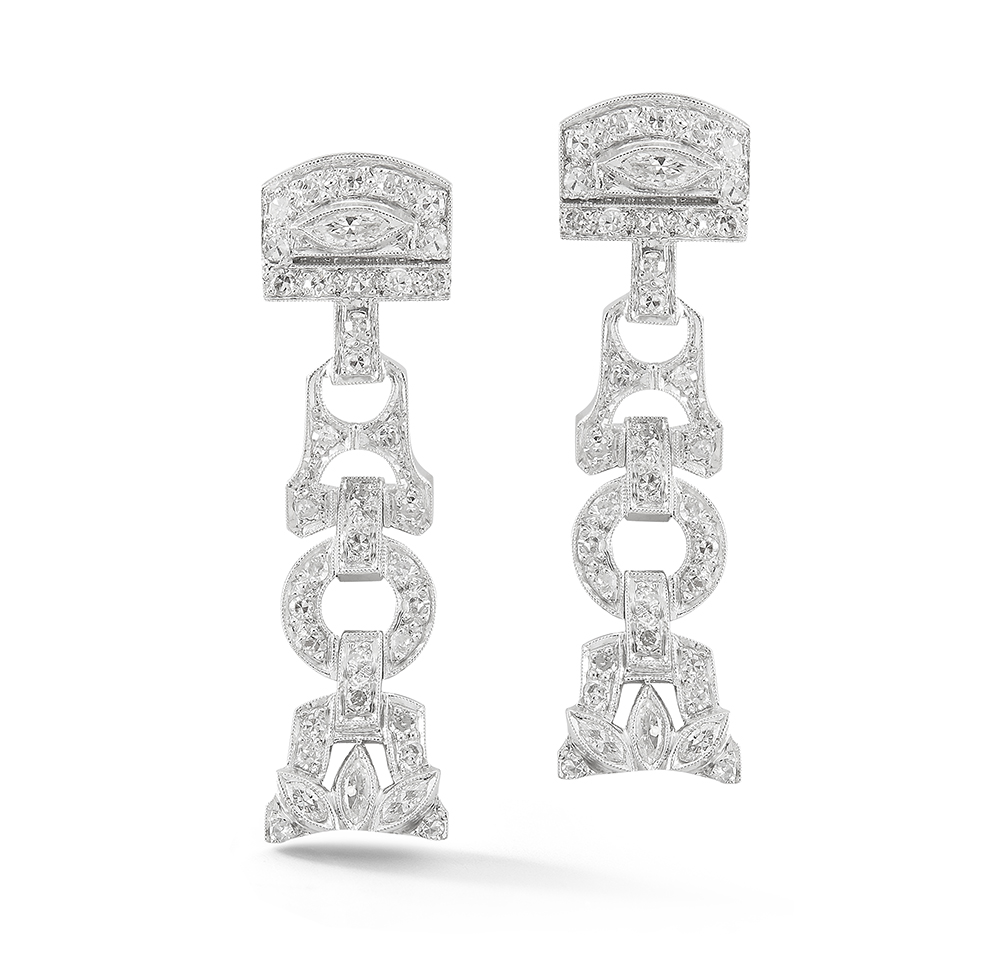 Roughly the period between two World Wars, Art Deco celebrates modern industrial strides developed in the first part of the 20th century. Art Deco jewelry mirrors the look of streamlined and geometric design that emerged then.
The Empire State Building and New York's Chrysler Building are iconic examples of the Art Deco movement. During this time spectacular gemstones were being discovered like Kashmir sapphires, fabulously valuable emeralds, and Burmese ruby,
Cartier created "Tutti Frutti" jewelry then, mixing 3 colorful gems (ruby, emerald, sapphire) into a single piece, which were wildly popular with society mavens. It was also the era of the square cut diamond, today referred to as a princess cut or a baguette. The cuts were invented to fit better into the geometric designs of that era.
By the late 1920's, it became fashionable for society ladies to wear dainty diamond studded wrist watches, referred to as the cocktail watch, a tongue in cheek snub at Prohibition which banned all alcoholic beverages. By this time, Mikimoto's pearl culturing was catching on and made pearls affordable to middle-class consumers. Massive layered pearl ropes made popular by Coco Chanel were all the rage with the Art Deco crowd, and jeweled clips decorated lady's necklines, belts, and shoes.